Mission & Vision
To eliminate food insecurity for children and families in West Volusia by providing meals to school-aged children in need and their families, keeping families whole and allowing children to achieve their highest level of academic success.
How it Works
Donations
We collect monetary, food donations, monthly giving and business partnerships to help support our program.
Volunteer
Volunteers are needed to serve in our food pantry and various programs, as well as special fundraising events.
Delivery
Students recieve their bags on Friday afternoon before they head home for the weekend.
Extended Breaks
If we have enough provisions available, we also provide food for extended breaks and holidays.
What We Do
Though first conceived as a program to provide weekend meals to school age children, Backpack Buddies has quickly changed to whole family program due to the high-level of food insecurity in our community. We accomplish our mission through four pillars:
School Backpack Program
Providing take home meals to children at 3 schools on Fridays, ensuring there is food over the weekend.
Monthly Food Drops
Distributing over 20,000 lbs of food each month in a drive through program to families in West Volusia. Drops alternate across West Volusia cities determined by need.
Pantry
Distributing groceries to families 2x a week from our pantry.
Kids Helping Kids
Students create campaigns for food products, funds, and other necessities, while learning to be good community citizens. Our program demonstrates how one person can make a difference in their community.
Our Story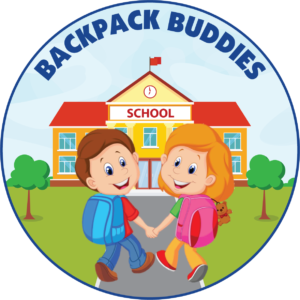 Orange City Vice Mayor and President/CEO of Our Two Stories Inc-DBA Backpack Buddies founded this organization to assist children in our West Volusia schools who have food insecurity on the weekends. Then, the Covid-19 Pandemic set into Volusia County, and she saw the need to help entire families with food, nutrition, and peace of mind. Since inception Backpack Buddies has become a regular household name for many Volusia County residents who depend on their help with putting food on the table. Many have lost jobs, been furloughed, or just can't keep up with the rising prices on food in the grocery stores. This organization is based in Orange City and has grown with the help of a wide range of corporate partners and community donations. Backpack Buddies doesn't really explain all of what this organization does.
We are "Our Two Stories" Our first story is that we pack food pack for kids in four different schools and plan to add our 5th school in just 3 years of operating. This program consists of 6-7 self-sufficient meals for kids to have available till they return to school on Monday. "Some kids just don't have any food at home" stated Kelli Marks, President/Founder.
Our second story is that we offer a family pantry to Volusians. We feed the entire family if needed. Including the pets! We offer baby supplies, toiletries, and much more! Our number of families in need has grown substantially in the last year and depend on monthly giving donations from the community, partnerships with area businesses and volunteers from our community to pull this off! Some of our Corporate Sponsors are Advent Health, Duke Energy, WastePro, and Rue & Ziffra who are also on our Board of Directors.
Also, we offer Kids helping Kids programs, quarterly Food Drop Giveaways in West Volusia Cities, Monthly giveaways from our local pantry, Santa in a Backpack for our students at Christmastime, and offer Christmas toys to families that sign up for assistance. And let's not for get our annual "School's Out Festival", which is always held the day after school lets out for Volusia County. This festival is a free festival for our community children to come and let some steam off! At this festival we ask that every participant bring an unexpired canned good for admission which we give back to our families in need.
Please email us for Information on our upcoming fundraiser events as well as volunteer opportunities. Our long-term goal is to be able to help all the schools in West Volusia County and to help our neighbors to be food secure.
Will you join us in our mission?
Kelli Marks, President